Custom Point of Purchase Displays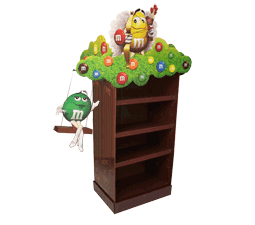 Our structural and graphic designers are allowed to take their time and dream of what makes sense for your product in the atmosphere you are selling in. They are encouraged to pursue more than one option if both are equally viable. Their design experience particularly with custom corrugated point of purchase displays allows them to account in advance for equipment capabilities and efficiencies in shipping. In addition, they are familiar with the requirements of major retailers.
Our custom work goes beyond displays. Our capabilities translate to all corrugated products. We can provide you with signage, packaging and shipping containers. We also manufacture pallets, including heat-treated pallets for shipping overseas.
Samples of our work can be found by clicking on "Samples of our work" in the drop-down menu.  We recognize that speed to market is a critical element of any program and strive to deliver Pre-Designed Displays® within 10 days of final sign-off of structure, color, art and credit. Custom displays and displays being fulfilled will need additional time.
Call us today at 800-786-2501 to discuss your needs!