Meridian Display was asked to produce two pallet displays for games to send into BJ's and Sam's Club.  They were for use as an endcap, and needed to be shopable from three sides.  There were two different games and each game had three different versions.  The first display held 60 pull cards of one game.  The second display held two different quanitites of two games.  The small version held 80 games, and the large version held 122 games.
The artwork for the pallet was supplied to Meridian Display.  We produced the display and pallets.  Our fulfillment center provided the following services:
Adding Price Stickers to the Games
Display Assembly
Pack-out of the Display
Labeling for Distribution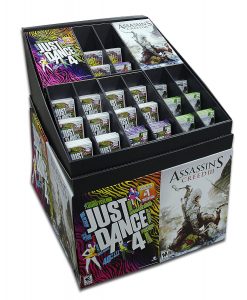 We fulfilled 500 displays and labeled them for shipping to 25 distribution centers.